Dan Evans Industrial Park II
Dan Evans Industrial Park II
SiteOhio Authenticated Site
Opportunity Zone Designated
The Dan Evans Industrial Park II Site is a 77 acre 'Authenticated Site' that is ready for your development.  Located within a designated Opportunity Zone,  just one mile North of US 35 /SR 850 interchange between Rio Grande and Gallipolis, Ohio. All utilities are available with excess capacities. 
The Site has been Authenticated through the JobsOhio SiteOhio Program. This one-of-a-kind program, offered by JobsOhio, guarantees industrial sites are ready for immediate development, creating a win-win situation for companies and communities. Companies get access to sites that minimize risk, reduce costs and increase speed to market. Communities gain construction-ready sites that are more appealing to potential buyers and may help attract jobs to their region. 
Completed Due Diligence Studies include: Phase 1 Environmental Review, Geotechnical Study, Wetland Delineation, Threatened & Endangered Species, and Phase 1 Archaeology Survey.  
Utility Infrastructure
Water Infrastructure – Gallia Rural Water
8″ within Industrial Park; 12″ transmission line to the Industrial Park boundaries
4.30 MGD total capacity of system serving the Industrial Park
500,000 gpd excess capacity with maximum 750,000 gpd
​Sewer Infrastructure – City of Gallipolis
8″ Line
450,000 gpd excess capacity at Industrial Park
AEP Ohio
Single – Three Phase Service
12kV circuit to the Industrial Park
Circuit originates from AEP Ohio station which is 10,000′ from Industrial Park
5 MW available capacity
Buckeye Rural Electric Cooperative
A Substation 3600′ from the Site with 7 MVA available capacity at the sub.
2500 KVA capacity readily available at Industrial Park through existing 336MCM 3 Phase conductors.
Columbia Gas of Ohio
6″ Medium Pressure plastic mainline
Horizon Network Partners
Horizon Fiber located along SR 850
Fiber-based solutions includes point-to-point and point-to-multipoint connectivity, as well as Dedicated Internet
Ethernet bandwidth that delivers up to 100 Gbps speed
Ring-protected network architecture, plus network points of presence with diverse connectivity and power.
Transportation
Road
The Dan Evans Industrial Park – Phase II Industrial Site is 1 mile from four-lane US 35,  providing quick access to three major interstate highways: I-64, I-77 and I-79.  
General Aviation Airport
The Gallia-Meigs Regional Airport located 9 miles from the Phase II Industrial Site, in Gallipolis, OH offers a 3,999′ runway for business and personal aircrafts. 
The James A. Rhodes Airport located 21 miles from the site in Jackson OH, offers a 5,201′ runway.
Commercial Airport
Huntington Tri-State Airport (HTS) – 65 mi

Yeager Airport (CRW) – 69 mi

Rickenbacker International Airport (LCK) – 92 mi

John Glenn Columbus International Airport (CMH) – 107 miles
Rail
The Kanawha River Railroad (KNWA) consists of 309 miles of tracking running south from Refugee, OH to Maben, WV.  The railroad's name is derived from the Kanawha River in West Virginia which the railroad follows south through the state.  The KNWA ships approximately 20,000 carloads of product annually for the energy, aggregate, agriculture, and chemical industries.  Rail spur and rail storage yard available at Hobson Yard, Middleport, OH which is 21 miles from the Dan Evans Industrial Park – Phase II Industrial Site.
River Transport
The Ohio River system is 451 miles of coast line and is responsible for 63 million tons of commodities valued at $7.4 billion moving to, from and within Ohio. The Ohio River traffic in Ohio is dominated by the electric utility industry which relies on waterways to ship coal to more than 19 water-served power plants.  Ohio's River Terminals also provide access to the Gulf of Mexico, markets in Central and South America, the Atlantic Ocean, as well as the Pacific Ocean and Asian markets via the Panama Canal.
Site Due Diligence Studies:
Phase 1 ESA
Completed by Burgess & Niple, Inc, dated June 2014.
Conclusion – No recognized environmental conditions identified on-site or off-site.
Threatened & Endangered Species
Completed by Hull & Associates Inc, September 2017.
Species identified by USFWS and ODNR considered within range of project area are either unlikely to inhabit the Site, or unlikely to be impacted by construction activities.  
Water Determination Study
Performed by Jobes Henderson & Associates, Inc. and Hull & Associates, Inc in September, 2017.
JHA and Hull identified three potentially jurisdictional ditches on the Site and two emergent wetlands on the Site. Based on the results of the field review, impacts to potentially jurisdictional surface waters requiring federal and/ or state permits are possible as a result of future development activities.
Preliminary Geotechnical Exploration Study
Completed by Hull & Associates, Inc in August 2017.  
Predominant soil types observed at the Site are soft to hard lean clay with sand and sandy lean clay. Hull is of the opinion that the site soils can be suitable for the support of the anticipated lightly located commercial structures using conventional shallow foundations consisting of continuous (strip) or spread (column) footings when founded in the medium stiff to hard lean clay. Consideration will need to be given to a footer drainage system for the buildings. Additional borings  will be required at the specific location of the building once known, to develop a detailed foundation design (structural) or economic analysis of foundation alternatives. 
Cultural Resources & Archeological Survey 
Completed by Lawhon & Associates, Inc in July 2018. 
The area subjected to archaeological survey consisted of an agricultural field approximately 77 acres in size. The field was plowed and allowed to weather to permit surface collection as the survey method. Fourteen new archaeological sites were identified: GA0436–GA0449. GA0449 consists of two tools located within 50 feet of each other, while the remainder of the sites are isolated finds of tools and debitage. Taken together, this collection of sites appears to represent hunting and processing of raw materials during the Late Woodland/Late Prehistoric period on this particular landform. No evidence for anything beyond the most temporary of occupations is indicated by these sites. None of the sites are recommended as eligible for the National Register of Historic Places and no further archaeological work is required prior to the development of this parcel.
Wetland Delineation Study
Completed by Hull & Associates Inc, May 2018
A total of three jurisdictional ditches and two wetlands were delineated and evaluated within the Study Area.  The jurisdictional ditch features are located along the eastern side of the southern Study Area boundary (Ditch J2) and along eastern side of the Study Area boundary adjacent to State Route 850 (Ditches J1 and J3). One wetland is located in the northeast corner (Wetland JA) and one wetland is located in a depression in the southcentral portion of the Study Area within the agricultural field (Wetland JB). All of the ditches and wetlands identified have been determined to be federally jurisdictional by Hull. 
Approved Jurisdictional Determination
Received from US Army Corps of Engineers (USACE) on August 31, 2018.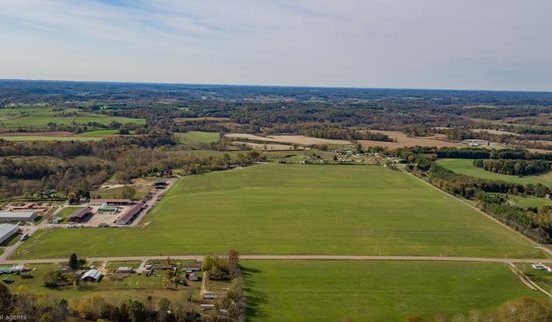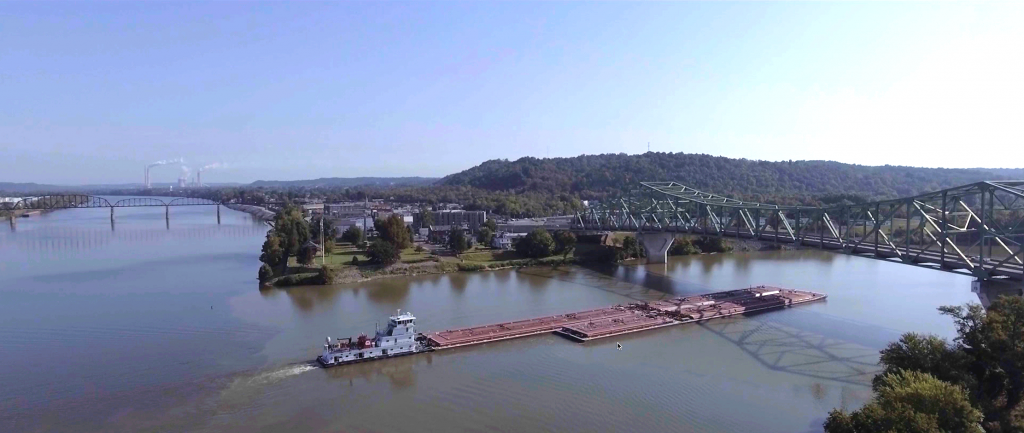 The Ohio River system moves 63,000,000 tons of goods valued at $7,400,000,000 annually.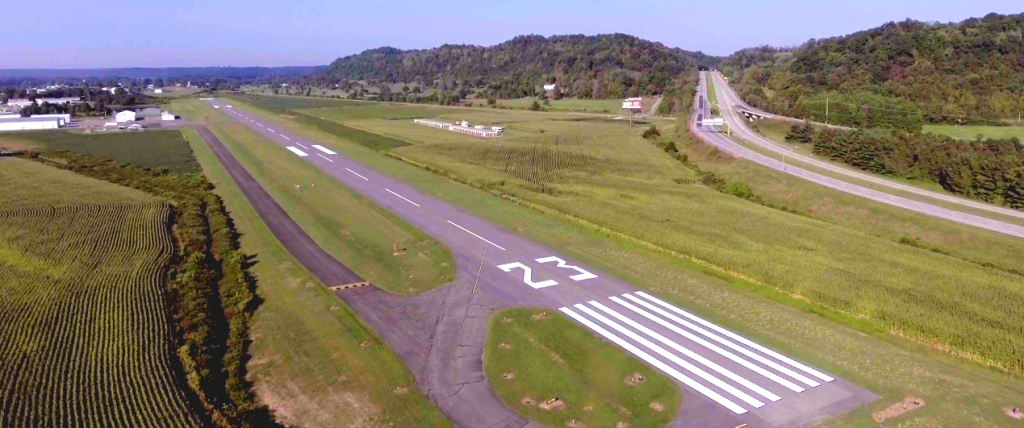 Gallia-Meigs Regional Airport