Food Processing & Agribusiness
The entire Eastern & Southern Ohio region is home to an array of companies that cultivate, process and distribute food products around the globe. Gallia County offers industrial, ready to develop sites with ample utilities and excess capacities to meet your production demands.  Our entire region has a food production workforce readily available to fulfill your company's needs.
Food Processing is a large and growing industry making up over 10 percent of the region's manufacturing.
Food Processing wages are 14 percent below the U.S. average and 20 percent lower than the state average.
The lush rolling hills of Gallia County are well suited to livestock production, which is a traditional, regional strength. 
Three Percent of Nation's Frozen Food Workforce is located in Southern Ohio
Food Processing is a thriving industry region-wide,with three percent of our nation's frozen food workforce centered around the General Mills and Bellisio Foods plants in Jackson, Ohio.
Over 120 food processing companies choose Eastern and Southern  Ohio for many strategic assets including:
Accessible and uncongested transportation corridors

Abundant water supply

Ample workforce

Silver Bridge Coffee, located in the Dan Evans Industrial Park,  processes and roasts the finest Fair Trade and organic coffee from all over the world.  Their coffees are sold at major grocery stores throughout Ohio, as well as independent grocery stores, coffee stops, restaurants and bakers.   Silver Bridge is the first company in Ohio to offer 100% recyclable single serve K-cups.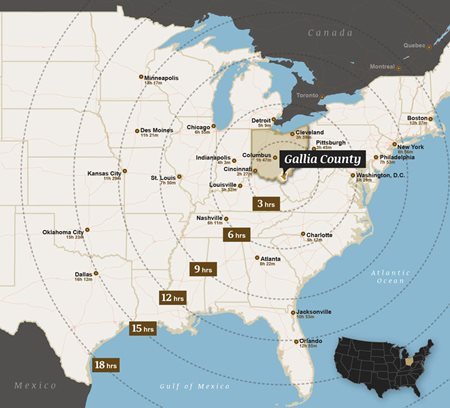 Bob Evans, founder of Bob Evans Restaurants and Gallia County native, began making his legendary sausage on the farm. The Bob Evans Farms company opened their first sausage plant in Bidwell (Gallia County), to keep up with demand. In 2013, the original Bob Evans Sausage Plant closed and production was moved to other facilities. 
Ohio is one of the Top Agribusiness States in the Nation
Ohio is home to growers, processors, distributors, retailers and customers as well as corporate and academic R&D centers, and package and distribution facilities. 
Gallia County's rich agricultural background continues to hold a valuable place today, from field crops, produce, livestock and forestry.  A slice of Gallia County Agriculture can be experienced by visiting the Ohio Valley Produce Auction or the Gallia County Farmers' Market. Agriculture producers in Gallia County take pride in raising quality fresh products for you and your family.