Dan Evans Industrial Park
Dan Evans Industrial Park of Southern Ohio
The Dan Evans Industrial Park of Southern Ohio offers prime development opportunities in Southern Ohio to
expanding businesses. Strategically located less than one mile North of the junction of US 35 and State Route 850. The Dan Evans Industrial Park has parcels available from 4-18 acres and one 77 acre parcel ready for your development.  All utilities are readily available, with excess capacities, to meet the needs of your business including: electric, natural gas, water, wastewater, fiber.


Businesses currently operating from the Dan Evans Industrial Park include: Foster Sales & Delivery, Holzer Health Systems (back office operations), Southern Cabinetry, Silver Bridge Coffee, MPW, Ohio Valley Trackwork Inc, Columbia Gas of Ohio, and Thompson Trucking.
Water Infrastructure - Gallia Rural Water
Sewer Infrastructure - City of Gallipolis
Buckeye Rural Electric Cooperative
The Dan Evans Industrial Park is located less than 1 mile from four-lane US 35, providing quick access to three major interstate highways, I-64, I-77 and I-79.
The Kanawha River Railroad (KNWA) consists of 309 miles of tracking running south from Refugee, OH to Maben, WV. The railroad's name is derived from the Kanawha River in West Virginia which the railroad follows south through the state. the KNWA ships approximately 20,000 carloads of product annually for the energy, aggregate, agriculture, and chemical industries. Rail spur and rail storage yard available at Hobson Yar, Middleport, OH which is 21 miles from the Dan Evans Industrial Park.
The Ohio River system is 451 miles of coast line and is responsible for 63 million tons of commodities valued at $7.4 billion moving to, from and within Ohio. The Ohio River traffic in Ohio is dominated by the electric utility industry which relies on waterways to ship coal for more than 19 water-served power plants. Ohio's River Terminals also provide access to teh Gulf of Mexico, markets in Central and South America, the Atlantic Ocean, as well as the Pacific Ocean and Asian markets via the Panama Canal.
The Gallia-Meigs Regional Airport is located 9 miles from the Dan Evans Industrial park and offers a 3,999′ runway for business and personal aircrafts. 

The James A. Rhoes Airport, offering a 5,201′ runway is located 20 miles from the Industrial Park, in Jackson OH.  
Featured Ohio Industrial Site
The Dan Evans Industrial Park – Phase II site a premier industrial site in Southern Ohio. The 77 acre ready-site, located within the Industrial Park is poised for immediate development. The site is currently under evaluation for the JobsOhio SiteOhio Authentication Program.  Completed due diligence studies at the Phase II Site include: Phase 1 Environmental Review, Preliminary Geotechnical Study, Wetland Determination, and a Threatened & Endangered Species study.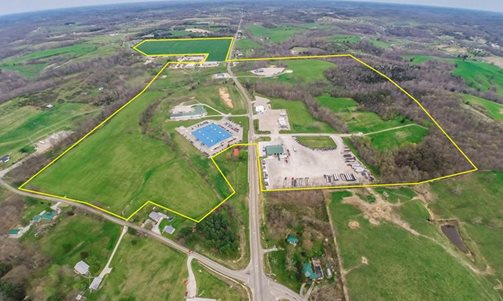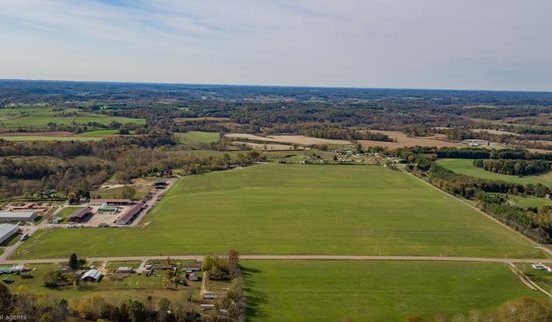 77 Acre Site within Dan Evans Industrial Park.