Welcome, Nucor Customers & Suppliers!
Be within
30 minutes
of one the world's most advanced steel mills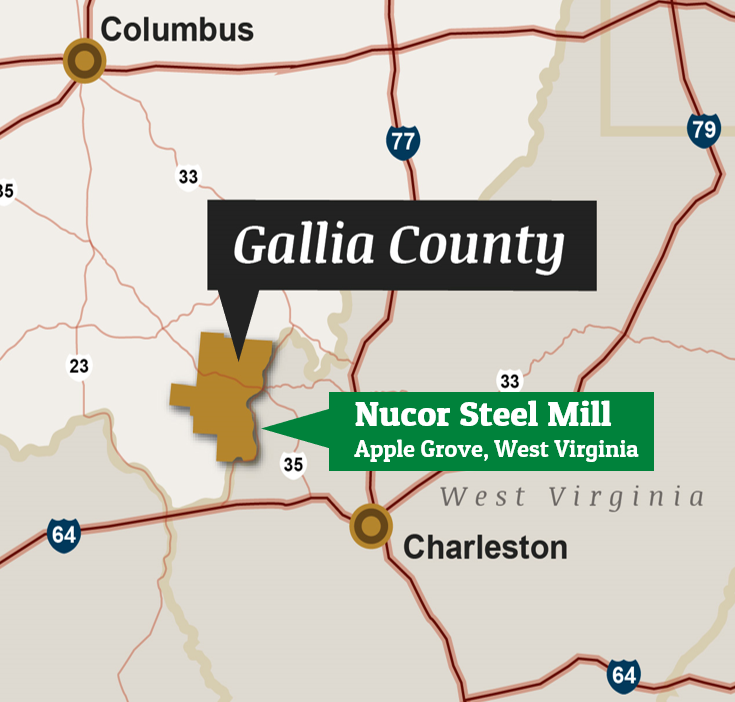 Nucor's $3.1 billion investment in Apple Grove, West Virginia, represents a historic investment in our region. Gallia County is perfectly situated to welcome Nucor's customers and suppliers looking to be close to the 3-million-ton-a-year mill.
Gallia County offers…
Shovel-ready sites and turn-key buildings, within 20-30 minutes from Nucor's Apple Grove, West Virginia, steel mill
A regional labor surplus with wages below state and national averages
Competitive tax advantages, along with state and local incentives
A four-year university, two-year community college, and trade school in-county, with talent pipelines in manufacturing, logistics & distribution, information technology, and welding
An exceptional quality of life, driven by Historic Downtown Gallipolis, numerous outdoor recreational opportunities, and housing costs lower than other areas in the region
Dan Evans Industrial Park II
Dan Evans Industrial Park is 30 minutes from Nucor's facility, situated just offer the US-35/State Route 850 interchange.
The park's Phase II site is shovel-ready with all site due diligence studies complete. It represents an ideal location for Nucor customers and suppliers.
Available Buildings
Buildings ranging from 3,000 sq. ft. to 100,000 sq. ft. are available in Gallia County. Whether you're looking for a manufacturing space, offices, or something in between, we can work with you to find the best solution for your operation.
Competitive Labor Cost
Gallia County's low cost of living translates to a lower cost of doing business. Sampling all jobs within a 45-minute drive of the County, almost
55,000 workers would see a pay increase at $20 per hour.


That's a broad labor pool to attract to your company with higher wages than they earn right now. Gallia County's education providers offer an efficient way to upskill or retrain workers to meet your company's needs.
Super Commuters
Workers in Gallia County and the surrounding region are commuting long distances for their jobs. In fact, Gallia County ranked 7th in Ohio for its number of "Super Commuters," those who drive at least 90 minutes one-way to work.
If presented with a better or equivalent job opportunity close to home, those workers would likely jump at the chance. This represents a major opportunity for employers that cater to our Super Commuters' skillsets.
Our data shows that nearly 2,300 workers in manufacturing-related industries are leaving our region each day for employment in other locations.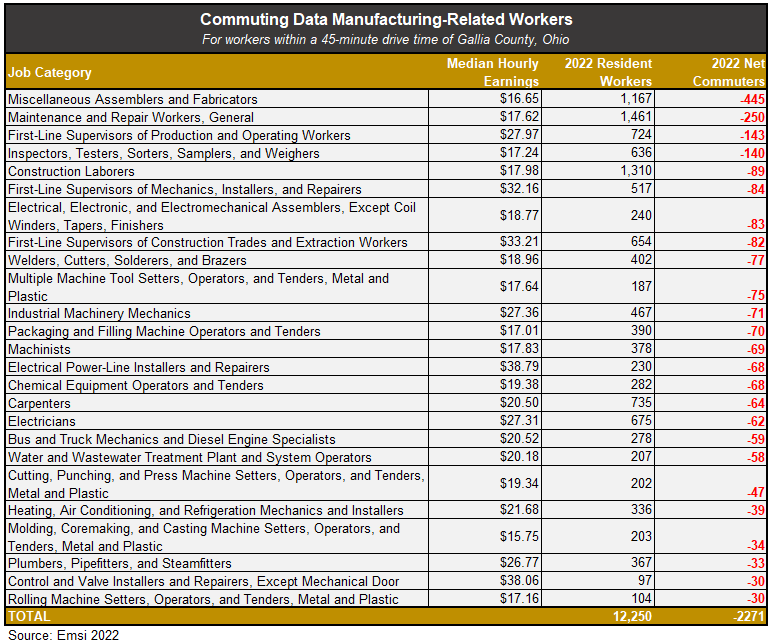 Tax advantages & Incentive programs
State Incentives
Ohio's secret weapon is JobsOhio, the state's private economic development corporation. JobsOhio has a number of grant programs for companies creating new jobs, adding payroll, and committing to fixed-asset investments that produce a return on investment. Learn more about state incentives
Local Incentives
Gallia County can offer a number of property tax incentives for job-creating projects and investments, including Enterprise Zone agreements, Community Reinvestment Area agreements, and Tax Increment Financing Learn more about local incentives
Workforce Development Incentives
TechCred helps Ohioans learn new skills and helps employers build a stronger workforce with the skills needed in a technology-infused economy. These technology-focused credentials take a year or less to complete and prepare current and future employees for the technology jobs Ohio employers need. Learn more
JobsOhio Talent Acquisition Services
From employer brand building and attraction to screening and training, the Talent Acquisition Services program provides a customized approach based on the company's needs. The goal is to build and execute a talent plan alongside the company's existing recruiting efforts to help solve their biggest talent challenges. This program isn't a grant or a loan, but rather a professional service offered by JobsOhio. Learn more
Gallia County sets itself apart from many other communities thanks to two leading, regional educational institutions. Located on opposite sides of US-35 in the Village of Rio Grande, the University of Rio Grande and Rio Grande Community College and Buckeye Hills Career Center are an economic engine for the area. The two institutions multiple complementary programs that enable many students to gain highly sought after credentials, associate's, and bachelor's degrees in manufacturing-related fields.

University of Rio Grande & Rio Grande Community College
As America's unique private/public institution of higher education, Rio's provides learners the opportunity to attain a high-quality, high-value education. Their personalized, learner-centered environment promotes successful lives, careers, and responsible citizenship.
Rio has a history of partnering with local employers to adapt for in-demand careers, including bachelor's and associate's degrees in Industrial Technology, Welding, and Information Technology.

Buckeye Hills Career Center
Buckeye Hills Career Center, in Rio Grande, Ohio, offers a wide variety of career and technical programs for high school and adult education students. Through classroom instruction, laboratory experience, cooperative work experience and option programs, students are prepared with skills for the workforce or prerequisites for academic training. 
Buckeye Hills has an impressive track record of spinning up programs to meet the needs of local businesses, including Cybersecurity, Advanced Robotics Manufacturing Systems, and Computer & Electronic Engineering Technologies.
Unmatched Small Town Living
Whether you're focused on making your dollars go further, enjoying our county seat's historic downtown and garden lots district, getting out for a hike or bike ride, or looking for a community where neighbors still reach out to lend a helping hand, Gallia County has it.

A QUINESSENTIAL SMALL TOWN
The City of Gallipolis has been named one of Ohio's top small towns multiple times, and it's easy to see why! 
Take a walk through the city park and historic downtown, which was recently featured on the TODAY Show as one of America's Merriest Main Streets.
Grab a bite to eat at one of our many restaurants, play a round of golf at the 18-hole Cliffside Golf Course, or go for a ride through town on the bike trail.
SOUTHEAST OHIO'S CULTURAL HUB
All within a 10-minute walk of one another, Gallia County's arts and cultural scene is unparalleled in Southeast Ohio. 
The Ariel Opera House is the home of the Ohio Valley Symphony and hosts sold-out performances throughout the year.
Museums such as Our House Tavern, the Gallipolis Railroad Freight Station Museum, and the John Gee Black Historical Center are entirely volunteer-run and take visitors through the County's fascinating 19th and 20th century history and connection to the 500 French settlers who developed the area.
The French Art Colony hosts numerous cultural events throughout the year, including art galleries, youth dance lessons, and a summer concert series.
Bossard Memorial Library acts not just as a library, but a community center, offering major attractions like BODIES: The Exhibition locally
Spotlight: Renew Rio Project
The Renew Rio Project in Gallia County has built several new homes and commercial structures in Rio Grande, right next door to the University of Rio Grande & Rio Grande Community College. More than a dozen new homes are planned for construction in the village, lifting up property values and injecting new life into the Rio Grande and Gallia County community. Residents love being able to catch a collegiate sporting event in the evening and working out at collegiate facilities.
Ready to build your company's future in Gallia County?
Let's get started!