Workforce & Education Overview
Southern Ohio boasts a plentiful, trained, and highly-skilled workforce. Within a 60 minute drive of Gallia County, employers can reach a labor force of nearly 250,000 people. 
Employers can also find six major educational partners nearby, ranging from technical schools to major state universities. That includes two institutions right here in Gallia County: the University of Rio Grande & Rio Grande Community College, and Buckeye Hills Career Center. Both have proven track records working directly with employers to tailor curriculum to their workforce needs.
Wages for the area are well below Ohio, Midwest, and national averages, enabling your business keep operating costs lower than other areas.

Hourly Wage & Occupational Data
Ohio already has a cost-efficient wage environment in comparison to the rest of the United States. 
Our regional wage advantage goes a step further and demonstrates how companies can save even more on labor costs by locating in Gallia County. These savings can result in dramatic savings on labor costs over time.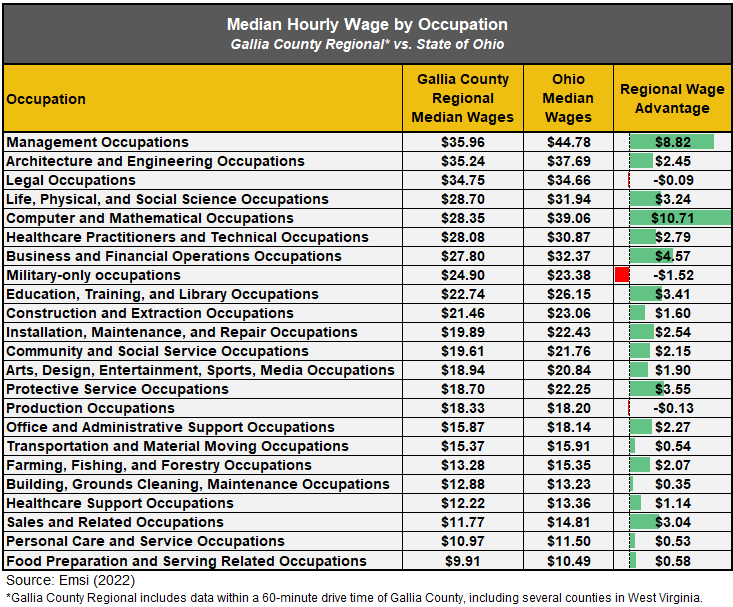 Gallia County's regional workforce is nearly 250,000 strong and, proportionally, fares better than state averages in industries like healthcare; construction & extraction; and installation, maintenance & repair.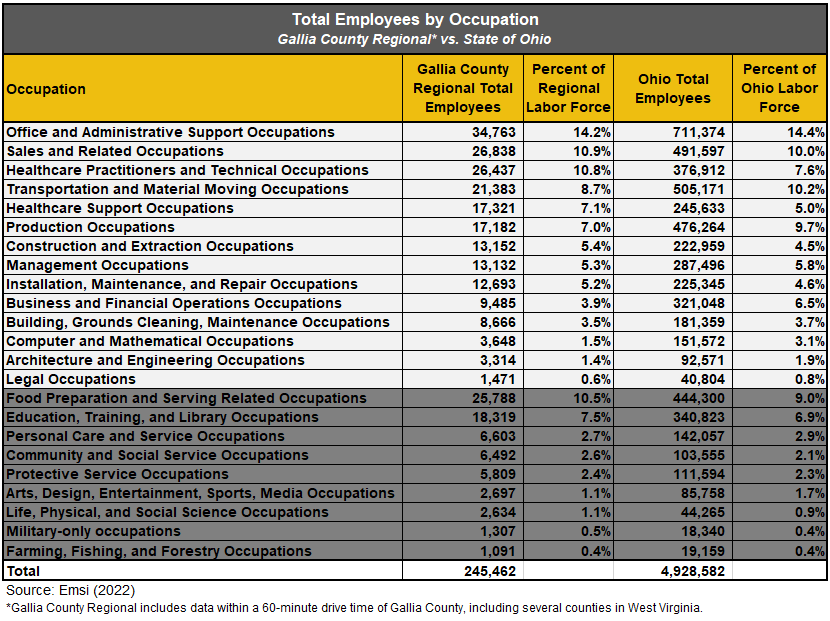 Gallia County sets itself apart from many other communities thanks to two leading, regional educational institutions. Located on opposite sides of US-35 in the Village of Rio Grande, the University of Rio Grande and Rio Grande Community College and Buckeye Hills Career Center are an economic engine for the area. The two institutions multiple complementary programs that enable many students to gain highly sought after credentials, a high school diploma, associate's degree, and bachelor's degree, all without leaving Gallia County.

University of Rio Grande & Rio Grande Community College
As America's unique private/public institution of higher education, Rio's provides learners the opportunity to attain a high-quality, high-value education. Their personalized, learner-centered environment promotes successful lives, careers, and responsible citizenship.
Rio has a history of partnering with local employers to adapt for in-demand careers, including bachelor's and associate's degrees in Industrial Technology, Welding, and Information Technology.

Buckeye Hills Career Center
Buckeye Hills Career Center, in Rio Grande, Ohio, offers a wide variety of career and technical programs for high school and adult education students. Through classroom instruction, laboratory experience, cooperative work experience and option programs, students are prepared with skills for the workforce or prerequisites for academic training. 
Buckeye Hills has an impressive track record of spinning up programs to meet the needs of local businesses, including Cybersecurity, Advanced Robotics Manufacturing Systems, and Computer & Electronic Engineering Technologies.
 Ohio University – Athens, Ohio
R1 research university with 250+ programs of study and 21,000+ enrollment
Marshall University – Huntington, West Virginia
R2 research university with 120+ programs of study with nearly 12,000 students enrolled
Shawnee State University – Portsmouth, Ohio
100+ programs of study with more than 3,100 enrolled 
Collins Career Technical – Chesapeake, Ohio
15 programs and adult diploma/GED availability
Workforce Development Programs & Grants