Our region is home to industry leaders in Advanced Manufacturing, Agribusiness & Food Processing, Logistics & Distribution, Energy, and Healthcare.
Gallia County Economic Development and local community leaders strongly support and encourage business development. With a strategic location at the crossroads of both existing and planned facilities in these industries, there is no better time to explore how Gallia County can catalyze your company's growth.
Gallia County offers a skilled, experienced manufacturing workforce, developable land, and a strategic location for sourcing parts and transporting products. That combination makes this a perfect location for manufacturing companies. Gallia County leaders include GKN Sinter Metals, ElectroCraft, JENNMAR Ohio Valley Trackwork, and Southern Cabinetry. 
Within a 30 minute drive, you'll find Toyota's Buffalo, West Virginia, manufacturing plant, and within 60 minutes, you'll find Kenworth's Chillicothe, Ohio, manufacturing plant. Together, these facilities employ nearly 4,000 people. The uncongested US-35 corridor provides substantial opportunities for suppliers to these centers, as well as a regional cluster for prospective developers.
The opportunity doesn't stop there — in 2022, major steel manufacturer Nucor announced a $3.1 billion investment just 15 minutes from Gallia County in Apple Grove, West Virginia. The same year, Honda and LG announced a $3.5 billion investment in Fayette County, Ohio, just under two hours from Gallia County. Berkshire Hathaway and Precision Castparts Corp. (PCC) announced a $500 million project to build a renewable energy microgrid to power an aerospace manufacturing facility 45 minutes away in Ravenswood, West Virginia.
Local educational institutions, University of Rio Grande & Rio Grande Community College and Buckeye Hills Career Center produce dozens of ready-to-go graduates each year with training on today's advanced industrial machinery.
Agribusiness & Food Processing
Gallia County native Bob Evans, founder of Bob Evans Restaurants, began making sausage "down on the farm," right here in Gallia County. Agriculture & Food Processing has remained a thriving industry region-wide. Today, local companies like R&C Packing and Silver Bridge Coffee Company carry on that tradition, serving customers both locally and nationally with Gallia County-made products.
Regional leaders in the Food Processing include General Mills and Bellisio Foods, who together employ nearly 2,500 people within 30 minutes of Gallia County in neighboring Jackson County. That proximity makes the US-35 corridor a Food Processing cluster that your company can tap to grow into the future.
Gallia County's centralized location in the Eastern United States, along with its nearly 40 miles of riverfront along the Ohio River, make us a supply chain hub. Companies including Dayton Freight, Foster Sales & Delivery, Thompson Trucking, and Burlile Petroleum choose to operate their businesses near the US-35 corridor in Gallia County, enabling access to 60% of the U.S. population within a day's drive. The riverfront in Gallia County is peppered with barge unloading facilities, as well as Amherst Madison's marine repair facility.
Gallia County has been powering homes and businesses for decades. Two of Gallia County's largest employers are the Lightstone Generation Gen. James Gavin Power Plant and Ohio Valley Electric Corporation (OVEC) Kyger Creek Power Plant.  The Gavin Plant is a 2.6 Gigawatt coal-fired power station is the largest coal fired power facility in Ohio, and one of the largest in the nation. The Kyger Creek Power Plant is a 1-Gigawatt coal-fired power station. Both are located along State Route 7, just a 10 minute drive from the US-35 exit in Gallipolis.
Holzer Health System, Gallia County's single largest employer, is an independent, community-owned health care system. With over 160 board certified or board eligible physicians providing care in more than 30 areas of expertise, Holzer 21 locations throughout southeastern Ohio and western West Virginia, Holzer, including its headquarters here in Gallia County. Specialty services include the Holzer Cardiovascular Institute, Holzer Center for Cancer Care, which recently began a historic partnership with Cleveland Clinic.
Gallia County has multiple sites, ranging from 3 to 77 acres, ready for your next move.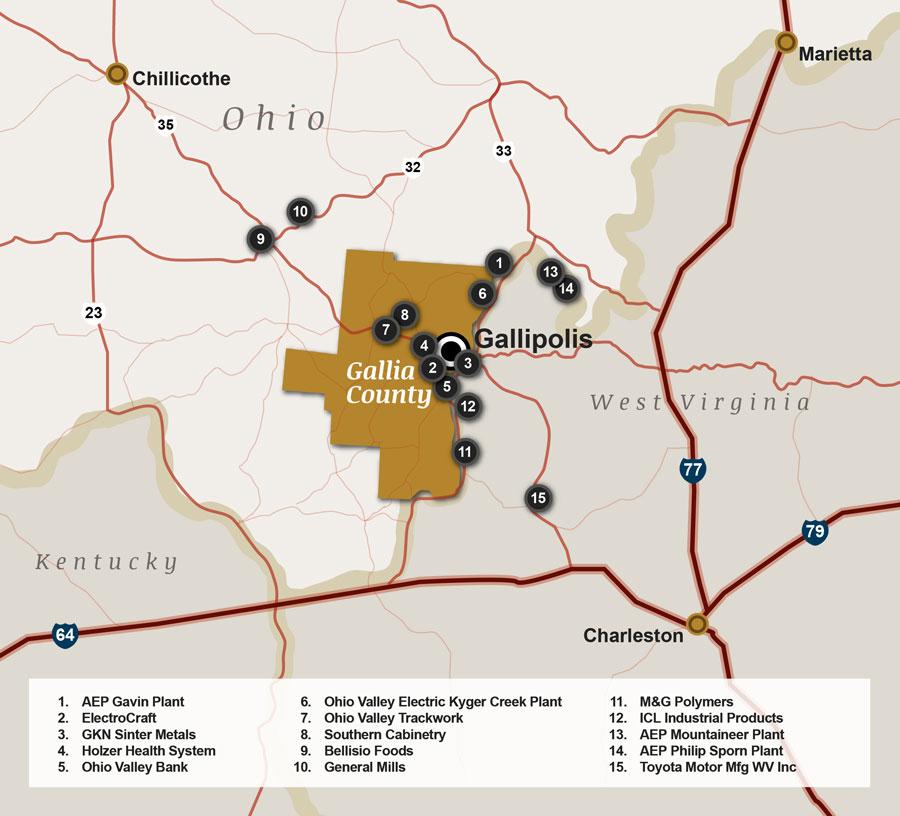 Major employers in Gallia County and the region.
ElectroCraft is the largest advanced manufacturing employer in Gallia County.

Gallia County's own, Silver Bridge Coffee Company, has grown from a spare room in owner Lorraine Walker's house to a staple in the coffee aisle of more than 100+ major supermarkets in Ohio.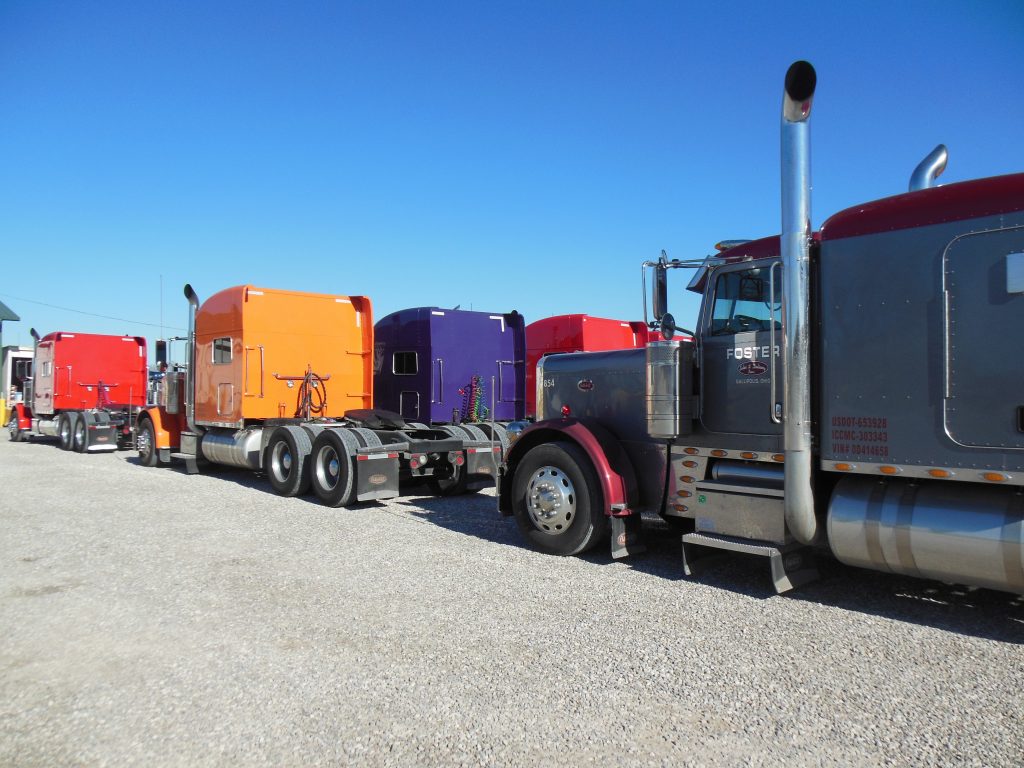 Gallia County natives Bob and Joe Foster have grown Foster Sales & Delivery over more than 30 years in business. They provide transportation solutions for the entire continental United States.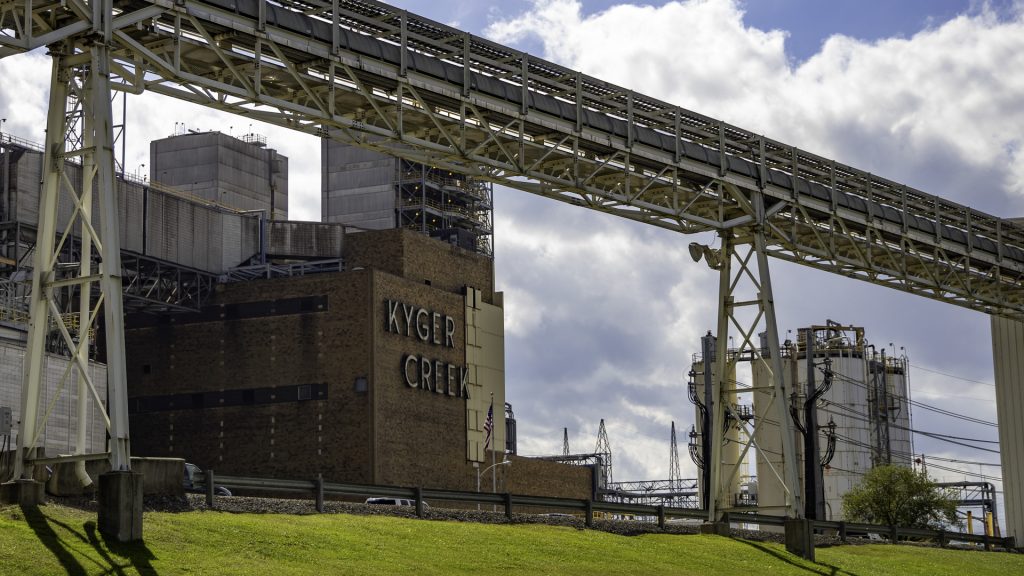 OVEC Kyger Creek Power Plant has provided reliable power to the region for nearly 70 years. The plant generates enough electricity to power a city of one million people.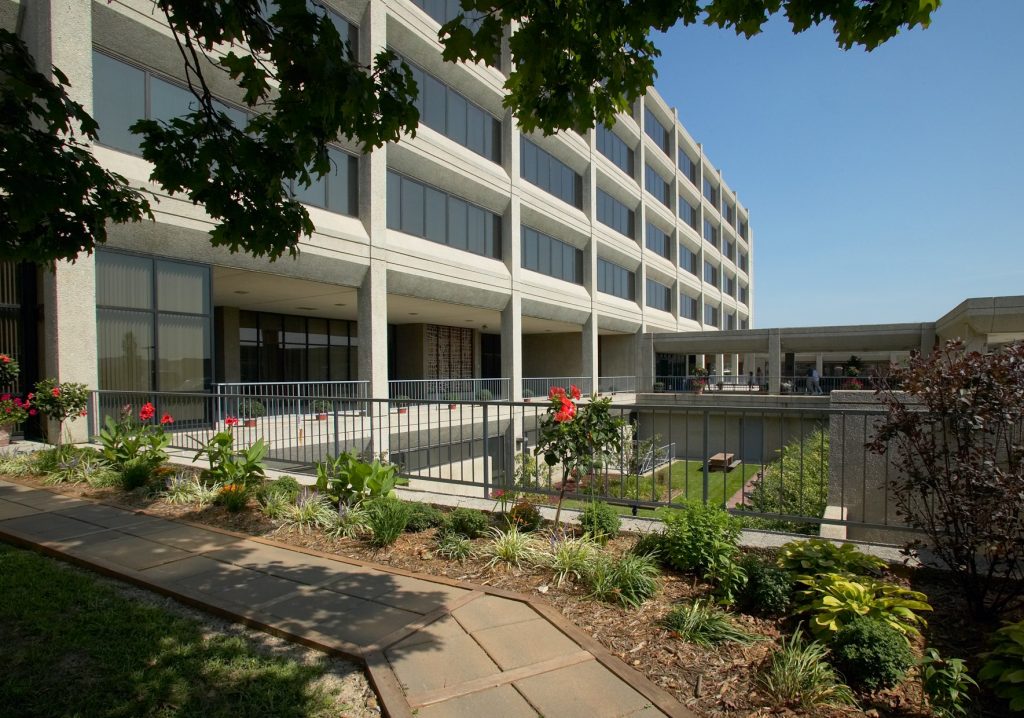 Holzer Health System's headquarters in Gallia County. Holzer is a prime example of a "homegrown" enterprise, starting more than 100 years ago as the area's first private hospital.