Transportation Infrastructure
Highway & Interstate
The recent completion of the final four-lane portion of US-35 opens a world of possibility for Gallia County, connecting your truck transport to three interstates within 60 minutes.
I-64: connects Gallia County to Lower Midwest and Mid-Atlantic markets
I-77: connects Gallia County to Southeastern U.S. market
I-79: connects Gallia County to Northeast U.S. market

Additionally, US-35 provides easy access to major Ohio markets, including Columbus, Cincinnati, and Dayton.
See a detailed map of Ohio's highway system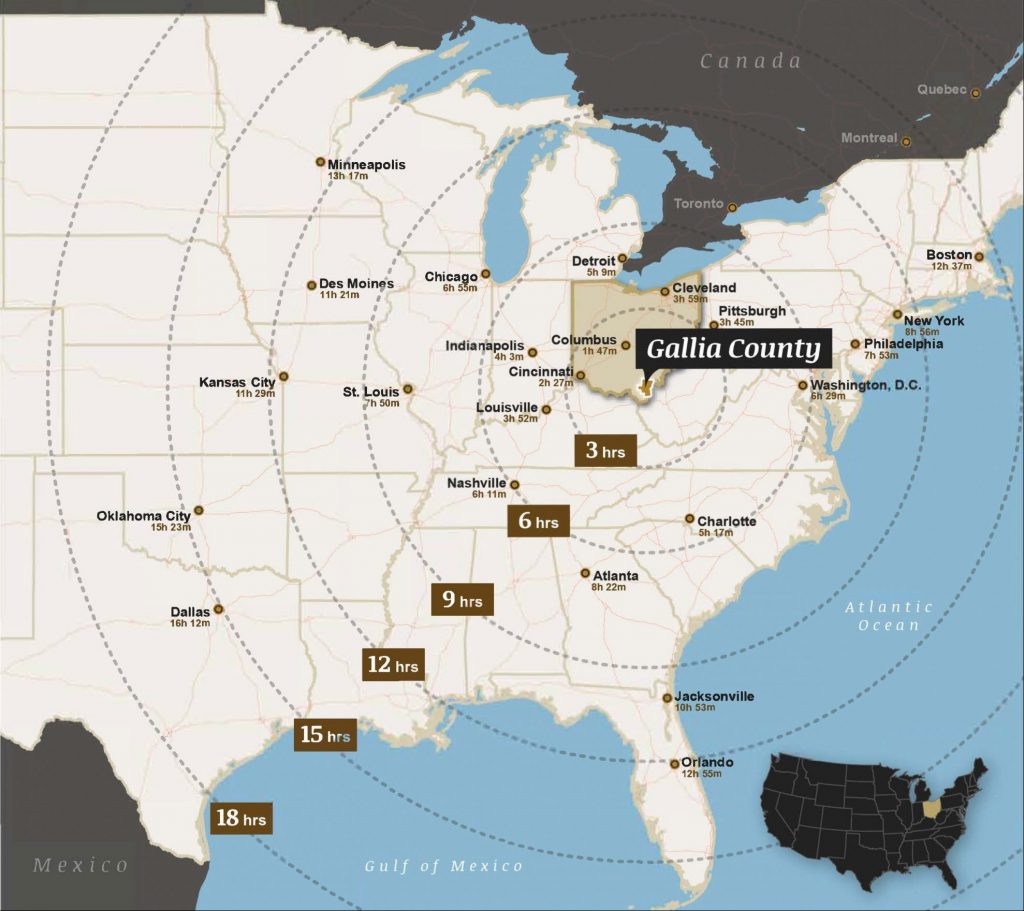 BUSINESS & GENERAL AVIATION
Gallia-Meigs Regional Airport (KGAS) in Gallipolis, Ohio, offers a 3,999′ runway, accommodating light jet, turboprop, piston, and helicopter traffic.
James A. Rhodes Airport (KJRO), 25 minutes away in Jackson, Ohio, offers a 5,200′ runway, accommodating midsize & light jet, turboprop, piston, and helicopter traffic.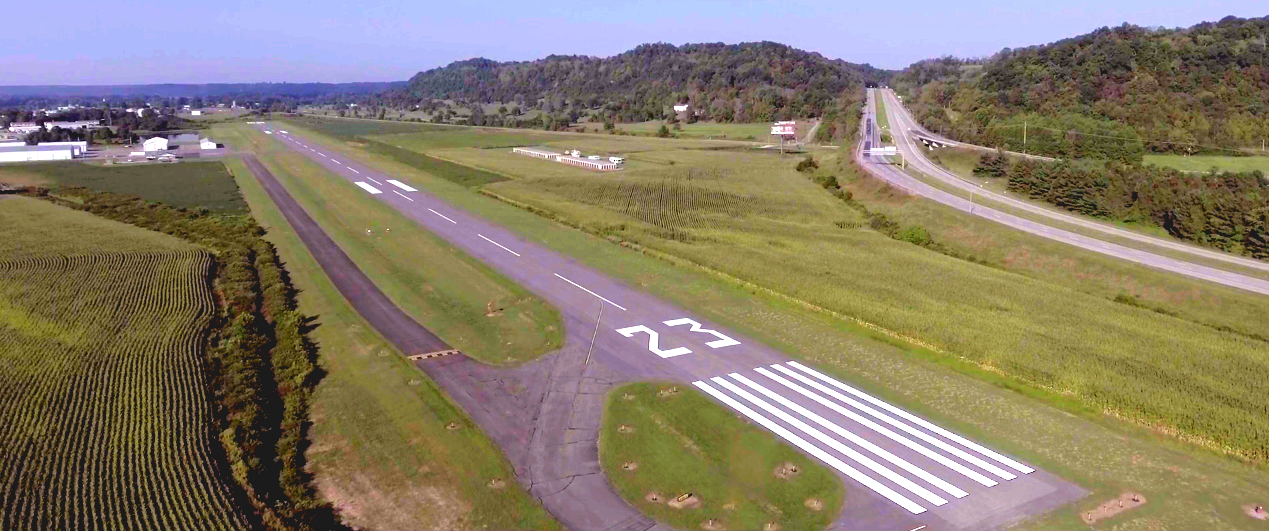 COMMERCIAL & CARGO AVIATION
Tri-State Airport in Huntington, West Virginia – 60 minutes
Charleston Intl' Yeager Airport in Charleston, West Virginia – 60 minutes
Rickenbacker Intl' Airport in Columbus, Ohio – 90 minutes
John Glenn Columbus Intl' Airport in Columbus, Ohio – 100 minutes
Dayton Intl' Airport in Dayton, Ohio – 120 minutes
Cincinnati-Northern Kentucky Intl' Airport in Erlanger, Kentucky – 140 minutes
More than 20 commercial and cargo airlines service these airports, enabling diverse options to transport your products and people.
RAIL
The Kanawha River Railroad (KNWA) consists of 309 miles of tracking running south from Refugee, Ohio to Maben, West Virginia.  The railroad's name is derived from the Kanawha River in West Virginia which the railroad follows south through the state. The KNWA ships approximately 20,000 carloads of product annually for the energy, aggregate, agriculture, and chemical industries. 
A rail spur and rail storage yard are available at Hobson Yard, 20 minutes away in Middleport, Ohio.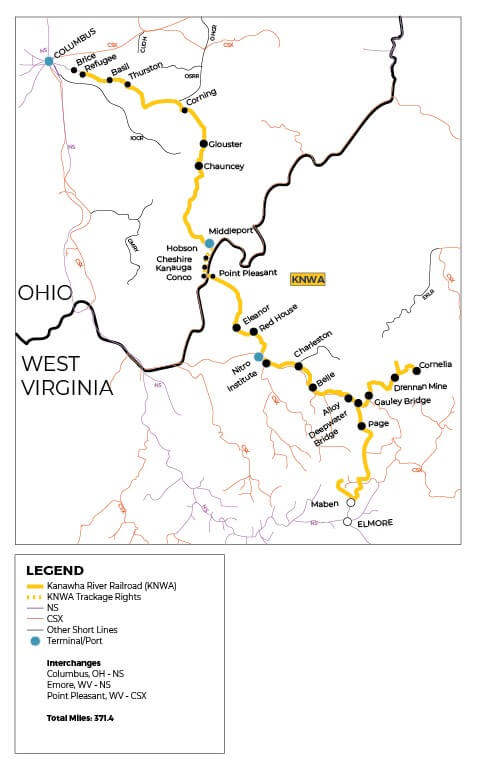 RIVER
Gallia County has 36 river miles as its eastern border, all part of the Port of Huntington Tri-State, the second largest inland port by volume in the United States.
The total Ohio River System is 451 miles of coast line, and is responsible for 63 million tons of commodities valued at $7.4 billion moving to, from, and within Ohio. The Ohio River traffic in Ohio is dominated by the electric utility industry, which relies on waterways to ship coal to water-served power plants. Ohio's River Terminals also provide access to the Gulf of Mexico, markets in Central and South America, the Atlantic Ocean, as well as the Pacific Ocean and Asian markets via the Panama Canal.