Dan Evans Industrial Park II
Grow with us at Dan Evans Industrial Park II!
With major investments coming to the region from the steel, aerospace, EV battery, and microchip manufacturing industries, the Dan Evans Industrial Park II site in Southern Ohio represents a rare opportunity for your company to capitalize on historic growth.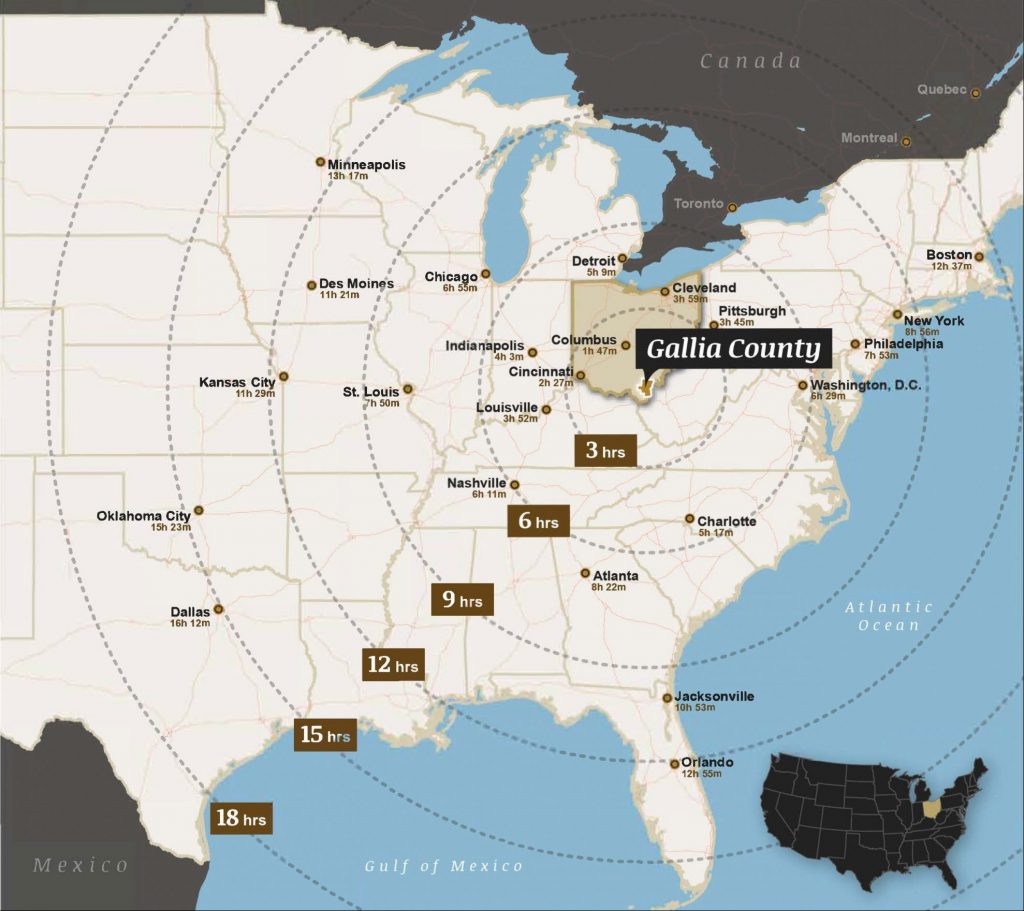 STrategically located, Certified as shovel-ready
This site has been Authenticated through the JobsOhio SiteOhio Program. This program, offered by JobsOhio, guarantees industrial sites are ready for immediate development. That means your company or client gets access to a site with minimal risk, reducing up-front costs and increasing your speed to market.
Its location can serve 60% of the U.S. population within a day's drive, as well as major Canadian markets.
Due Diligence Studies complete for this site include: Phase 1 Environmental Review, Geotechnical Study, Wetland Delineation, Threatened & Endangered Species, and Phase 1 Archaeology Survey.

Local, state, and federal incentives, ready for you
Local property tax abatement programs
State job creation tax credits and infrastructure grants
Eligible for an

Energy Community Tax Credit Bonus

for qualifying clean energy projects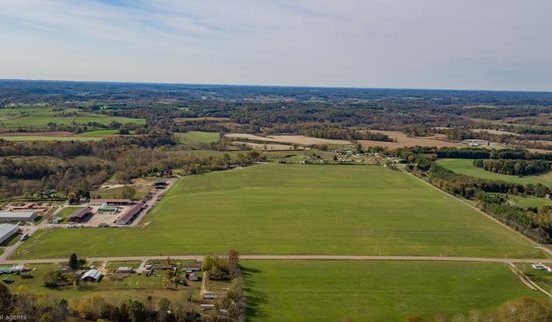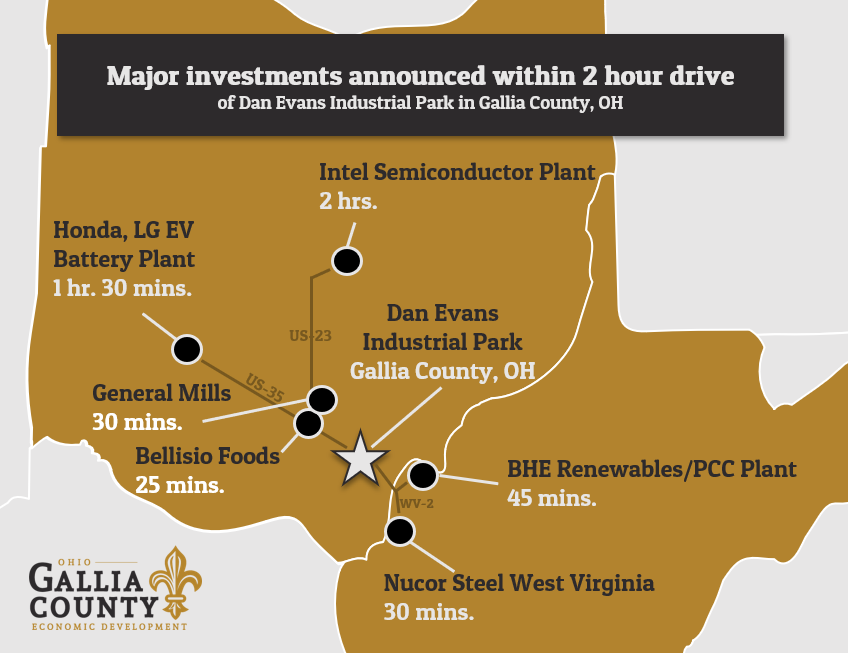 Central location to $27+ billion in new investments
2022 was a banner year for new investments in the Ohio-West Virginia region. Dan Evans Industrial Park II is centrally located near these sites, in addition to a number of other megasites poised for new development.
Electric – AEP Ohio
Single – Three Phase Service
12kV circuit to the Industrial Park
Circuit originates from AEP Ohio station which is 10,000′ from Industrial Park
5 MW available capacity
Electric – Buckeye Rural Electric Cooperative
A Substation 3600′ from the Site with 7 MVA available capacity at the sub.
2500 KVA capacity readily available at Industrial Park through existing 336MCM 3 Phase conductors.
Site is dual-served by electric providers, giving your company more flexibility and cost competitiveness.
Water – Gallia Rural Water
8″ within Industrial Park; 12″ transmission line to the Industrial Park boundaries
4.30 MGD total capacity of system serving the Industrial Park
500,000 gpd excess capacity with maximum 750,000 gpd
Sewer – City of Gallipolis
8″ Line
450,000 gpd excess capacity at Industrial Park
Gas – Columbia Gas of Ohio
6″ Medium Pressure plastic mainline
Fiber – Horizon Network Partners
Horizon Fiber located along SR 850
Fiber-based solutions includes point-to-point and point-to-multipoint connectivity, as well as Dedicated Internet
Ethernet bandwidth that delivers up to 100 Gbps speed
Ring-protected network architecture, plus network points of presence with diverse connectivity and power.
 Transportation
Highway & Interstate
Site is one mile from four-lane US-35, providing quick access to three major interstates, I-64, I-77 and I-79, as well as quick four-lane access to Ohio's major cities.
General Aviation Airports
The Gallia-Meigs Regional Airport located 15 minutes from the site, in Gallipolis, OH offers a 3,999′ runway for light jets, turboprops, pistons, and helicopters. 
The James A. Rhodes Airport located 25 minutes from the site in Jackson OH, offers a 5,200′ runway for midsize & light jets, turboprops, pistons, and helicopters.
Commercial & Cargo Airports
Tri-State Airport in Huntington, West Virginia – 60 minutes
Charleston Intl' Yeager Airport in Charleston, West Virginia – 60 minutes
Rickenbacker Intl' Airport in Columbus, Ohio – 90 minutes
John Glenn Columbus Intl' Airport in Columbus, Ohio – 100 minutes
Dayton Intl' Airport in Dayton, Ohio – 120 minutes
Cincinnati-Northern Kentucky Intl' Airport in Erlanger, Kentucky – 140 minutes
Rail
The Kanawha River Railroad (KNWA) consists of 309 miles of tracking running south from Refugee, OH to Maben, WV. Rail spur and rail storage yard available 20 minutes away at Hobson Yard in Middleport, Ohio.
River Transport
The Ohio River system is 451 miles of coast line and is responsible for 63 million tons of commodities valued at $7.4 billion moving to, from and within Ohio. The Ohio River traffic in Ohio is dominated by the electric utility industry which relies on waterways to ship coal to more than 19 water-served power plants.  Ohio's River Terminals also provide access to the Gulf of Mexico, markets in Central and South America, the Atlantic Ocean, as well as the Pacific Ocean and Asian markets via the Panama Canal.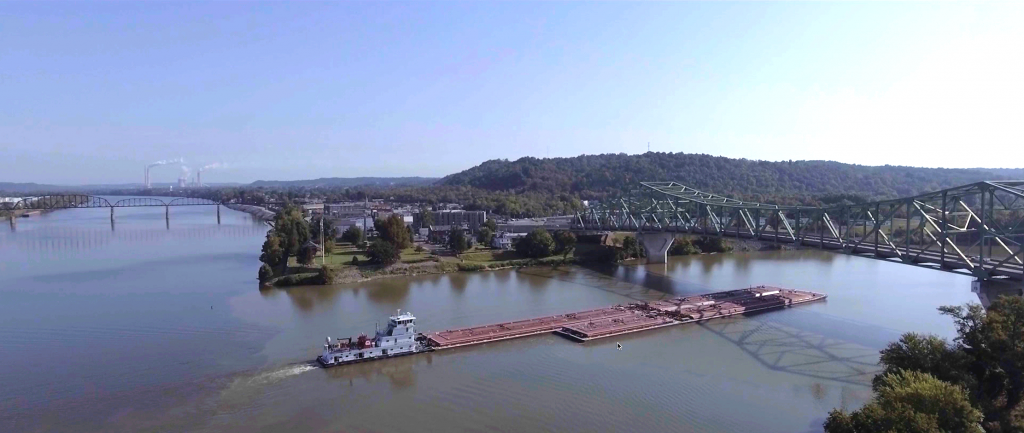 The Ohio River system, just 10 miles from the site, moves 63 million tons of goods valued at $7.4 billion annually.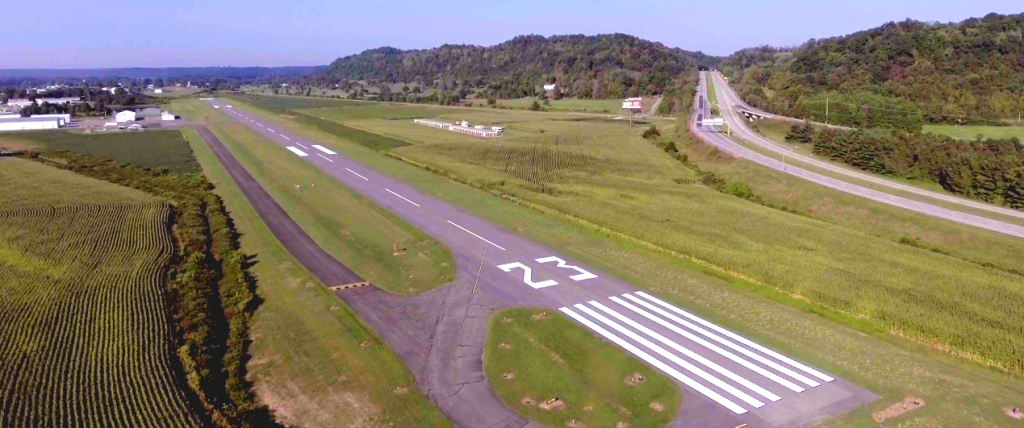 Gallia-Meigs Regional Airport is located 10 miles from the Phase II site.
We'd love to show you around.
Let's talk about why this site should be your company's newest location.